Product Name: Vibrating screen mesh
Material: PU/polyurethane/rubber
type:modular/tensioned/high frequency etc.
Popular Dimension: Can be customized.
Customization: Available
Standard service life: 6~12 months
Delivery: 15-45 days depending on the quantity
Email: Jackma@dzchaishang.com
WhatsApp/WeChat: 86-15621266667
---
We can customize the polyurethane tensioning screen, the aperture can do 0.1mm to 170mm, mainly to meet the needs of most customers, wherein the skeleton in the screen mesh is melted into a piece, with large bearing capacity and high screening efficiency, low noise.
Our factory for foreign customers to provide good tensioning mesh, please give each other a trust, welcome to consult.
---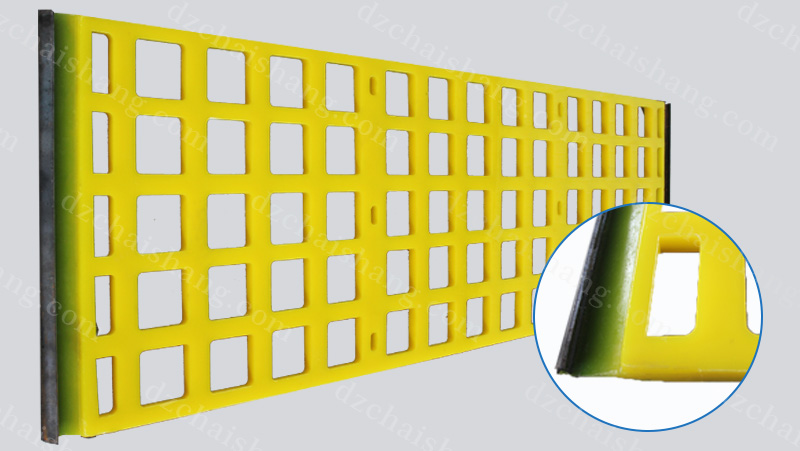 sieve plate like atelectasis,rubber screen plate under shower,tensioned mesh sieve amid stock,vibrating screen,rubber screen panel as a cover,tension screen plate,shaker tensioned Urethane sieve provider,aggregate panel factory price,mesh number of sieve,rubber mesh sieve 80 micron,cheapest Urethane linear vibrating Deck,vibrating screen,tension plate between engine and transmission,polyurethane sieve below grade,tension screen plate,Urethane tension  mesh Maker Dewatering,aggregate panel factory price,trade vibrating Urethane flip flop panel Aggregate,pu mesh panel across the universe,what is modular panel,tensioned screen mid game,vibrating PU high frequency sieve ODM Ore,vibrating screen panel near me,vibrating screen,polyurethane wire screen,polyurethane screen plate to second base,polyurethane sieve panel behind tv,tension screen plate,Wholesale price vibrator Urethane polyweb Deck,aggregate panel factory price,high frequency panel facial,Cheap tension Urethane Media Ore,polyurethane plate bearing,polyurethane tension screens vs regular.