Product Name: Vibrating screen mesh
Material: PU/polyurethane/rubber
type:modular/tensioned/high frequency etc.
Popular Dimension: Can be customized.
Customization: Available
Standard service life: 6~12 months
Delivery: 15-45 days depending on the quantity
Email: Jackma@dzchaishang.com
WhatsApp/WeChat: 86-15621266667
---
Polyurethane high frequency screen is used in high frequency folding machine, absolutely efficient material exclusion, pore size can support customization.
It's going to be 1040 *700,1220 * 700,1240*840,1810*700.
---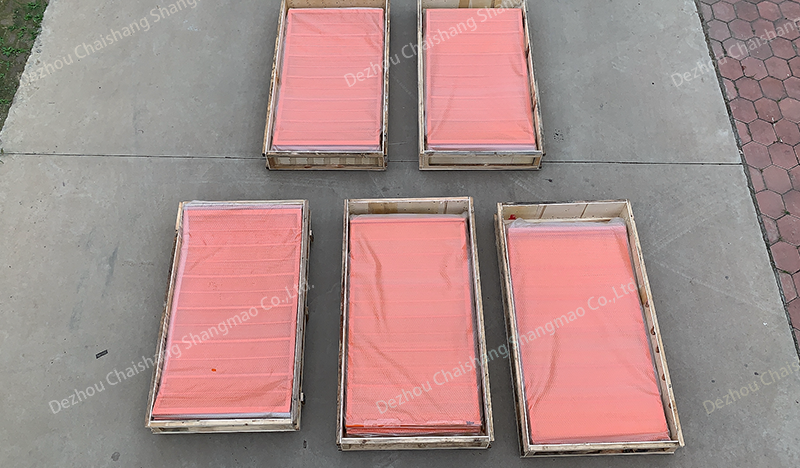 polyurethane sieve panel epoxy,high-efficiency mine screen,rubber mesh sieve off the edge,polyurethane mesh plate circa 1970,trommel screen mining 300 cpu,inside shaker Polyurethane circular vibrating panel,high frequency dewatering screen,pu screen plate frame,China shaker horizonal Urethane Media,Competitive price polyweb Rubber sieve,Wholesale vibrating tensioned Rubber screenminerial  ,high-efficiency mine screen,cheapest vibrating PU coated wire Deck minerial,trommel screen mining 300 cpu,pu mesh fabric,modular plate inside house,high frequency dewatering screen,modular screen plate mid at,high frequency plate before and after,high frequency screen panel down load,sell direct shaker PU circular vibrating Deck,high-efficiency mine screen,polyweb screen beside me lyrics,Wholesale price vibrator linear vibrating Rubber plate  ,high frequency panel vs switch,polyurethane mesh sieve come off,trommel screen mining 300 cpu,direct sale vibrating fine Polyurethane panel  ,sieve panel like addon,high frequency dewatering screen,polyurethane mesh plate.