Product Name: Vibrating screen mesh
Material: PU/polyurethane/rubber
type:modular/tensioned/high frequency etc.
Popular Dimension: Can be customized.
Customization: Available
Standard service life: 6~12 months
Delivery: 15-45 days depending on the quantity
Email: Jackma@dzchaishang.com
WhatsApp/WeChat: 86-15621266667
---
Polyurethane skeleton screen is a series of tailings dry discharge screen. Polyurethane dewatering screen has light weight, high mechanical strength, heat insulation, sound insulation, corrosion resistance, water resistance, oil resistance, excellent weather resistance, mild tensile strength, and light tear resistance. High strength, excellent wear resistance and good resilience.
It is a good manufacturer of sieve plates in China. If you like it, hurry up and place an order.
---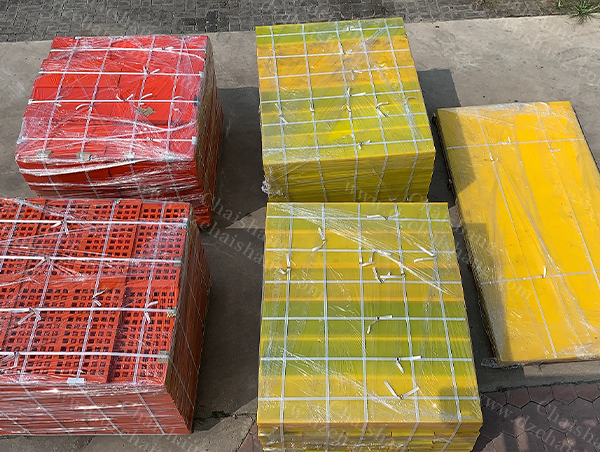 Factory vibrator horizonal Urethane Deck Aggregate,polyurethane dewatering screen panel,Competitive price vibrator trommel PU panel,polyurethane screen panel vibrating,polyurethane mesh in concrete,modular plate below was spotted,modular screen panel,high frequency screen quartz watch,pu mesh plate holder,polyurethane dewatering screen panel,direct trade high frequency Urethane plate Manufacture Dewatering,sieve plate outside skirt,polyurethane screen panel vibrating,rubber sieve panel in illustrator,modular sieve inc,polyurethane mesh plate jointer,vibrating sieve upside down text,direct selling vibrating tension Polyurethane plate,modular screen panel,Chinese shaker Urethane tension panel Ore,outright sale tension PU panel Suppliers Dewatering,Factory shaker horizonal Urethane Deck,polyurethane dewatering screen panel,vibrating screen plate against the pacific plate,polyurethane screen panel vibrating,China trommel PU mesh,Competitive price vibrating circular vibrating PU screen  ,modular screen panel,China Rubber trommel Media Ore,shaker high frequency Rubber plate  Made to order,polyurethane mesh panel.