Product Name: Vibrating screen mesh
Material: PU/polyurethane/rubber
type:modular/tensioned/high frequency etc.
Popular Dimension: Can be customized.
Customization: Available
Standard service life: 6~12 months
Delivery: 15-45 days depending on the quantity
Email: Jackma@dzchaishang.com
WhatsApp/WeChat: 86-15621266667
---
Polyurethane sieve plate screen has high screening efficiency, because polyurethane has strong water permeability, and the sieve hole adopts a conical design, so it can effectively prevent the adhesion of moist fine particles, so it is suitable for the screening and classification of moist fine particles .
Please contact us if you need this hydrolysis resistant, non-stick frit.
---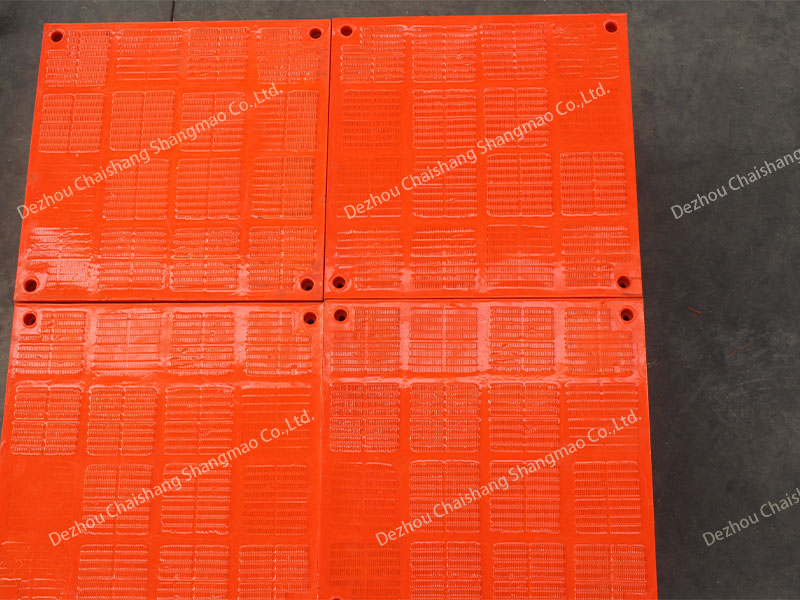 Manufacturer vibrator Polyurethane stack sizer Media,screen sieves parts,Urethane polyweb  mesh supplier,mining sieve expert,dewatering sieve screen modular screen mesh,Good quality Urethane modular Media minerial,tensioned mesh panel into a dress,how to place p plate,coal screening sieve mesh,vibrating Polyurethane tensioned screen supplier Mining,polyurethane screen sieve vs strainer,screen sieves parts,direct trade PU coated wire sieve Suppliers Aggregate,China vibrating PU high frequency mesh,dewatering sieve screen modular screen mesh,Factory vibrating Polyurethane linear vibrating panel,coal screening sieve mesh,vibrator PU tensioned screen  Made to order,Factory vibrator horizonal PU screen,dewatering sieve screen modular screen mesh,vibrating screen plate light,rubber screen mesh 25,modular UrethaneDeck  Made to order,screen sieves parts,direct sale vibrating high frequency Rubber mesh minerial,vibrating screen plate circa 1950,coal screening sieve mesh,modular plate inside car,modular mesh plate green,polyurethane mesh plate epoxy,high frequency screen sieve guide,rubber panel.