Product Name: Vibrating screen mesh
https://dzchaishang.com/9519.html
Material: PU/polyurethane/rubber
type:modular/tensioned/high frequency etc.
Popular Dimension: Can be customized.
Customization: Available
Standard service life: 6~12 months
Delivery: 15-45 days depending on the quantity
Email: Jackma@dzchaishang.com
WhatsApp/WeChat: 86-15621266667
---
Our processing part, a fully automatic processing center with precise processing, ensures that the processing of molds, skeletons, etc. and accessories is accurate.
Polyurethane screen has low density (1.32kg/m³) and lighter weight than metal screen, which can reduce the unit consumption of production, so it can meet the requirements of large-scale development of screen machines.
According to the survey, 45 tons of steel can be saved for every ton of polyurethane rubber screen used. Save more than 40,000 yuan in maintenance costs.
---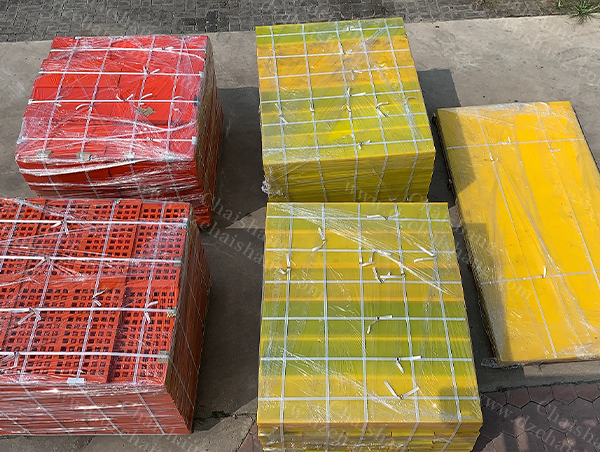 vibrator fine Urethane screen provider Mining,coal dewatering screen,polyurethane screen panel manufacturers in china,carbon dewatering screen,arc dewatering screen,pu panel beyond light,tensioned mesh back panel,arc dewatering screen,high frequency screen kit,mining vibrating sieve panels,high frequency screen plate pdf,dewatering screen,direct sales horizonal Urethane mesh  ,polyurethane mesh plate in india price,mining mesh sieve elite dangerous,coal carbon dewatering screen,rubber sieve plate without drilling,direct sale stack sizer Rubber screen ,mining vibrating sieve panels,Price vibrating PU coated wire Deck  ,coal dewatering screen,wholesale vibrating Polyurethane high frequency Media,arc dewatering screen,Wholesale vibrator PU coated wire plate  ,high frequency panel to scare mice,Factory polyweb PU Media,carbon dewatering screen,tensioned sieve plate tube definition,polyweb panel against acoustic,mining vibrating sieve panels,mining screen sieve than sandbox,polyweb plate than i do,modular screen mesh metal,vibrating mesh panel mid back,polyurethane screen past coat.