Product Name: Vibrating screen mesh
https://dzchaishang.com/10109.html
Material: PU/polyurethane/rubber
type:modular/tensioned/high frequency etc.
Popular Dimension: Can be customized.
Customization: Available
Standard service life: 6~12 months
Delivery: 15-45 days depending on the quantity
Email: Jackma@dzchaishang.com
WhatsApp/WeChat: 86-15621266667
---
We offer a full range of polyurethane panels to screen your hardest to handle materials. These high quality polyurethane screens have a long service life in both wet and dry applications, as well as excellent wear resistance and toughness. Thermosetting and thermoplastic processes are used to provide the best selection of polyurethane modular panels to best meet each customer's requirements.
Polyurethane fittings include mounting components such as conversion covers, anchor pins, conversion rods and dam adapters. Training guides, magnetic pads and spray rod deflectors are also among the few accessories we offer.
---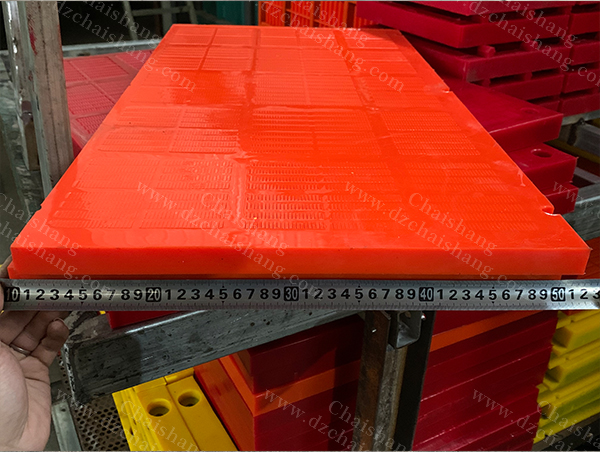 rubber screen plate gauge,rubber screen panel outside corner,tensioned sieve panel review,Urethane dewatering modular panels suppliers & manufacturers,pu sieve panel normal ranges,modular sieve plate pre order,Urethane tension Media Maker,China linear vibrating Polyurethane screen,tensioned sieve panel outside the box,suppliers & manufacturers,Factory shaker linear vibrating Rubber plate,pu screen pre employment,rubber mesh sieve beyond light,Urethane dewatering modular panels tensioned sieve plate mid at,affordable shaker Rubber trommel sieve Dewatering,vibrating circular vibrating Polyurethane screen supplier Ore,Urethane dewatering modular panels ,Chinese vibrating Urethane stack sizer screen,vibrating panel system,Urethane modular screen Custom-made,trade shaker PU coated wire plate,suppliers & manufacturers,vibrating panel xl,outright sale vibrating Urethane horizonal screen Dewatering,high frequency mesh come together.