Product Name: hydrocyclone separator
https://dzchaishang.com/9657.html
Material: PU/polyurethane/rubber/urethane
Popular Dimension: Can be customized.
Customization: Available
Standard service life: 6~12 months
Delivery: 15-45 days depending on the quantity
Email: Jackma@dzchaishang.com
WhatsApp/WeChat: 86-15621266667
---
A cyclone is a device that uses fluid pressure to generate rotational motion. When the slurry enters the cyclone at a certain speed, it is forced to make a rotary motion after encountering the wall of the cyclone.
Due to the different centrifugal rates, the solid coarse particles in the slurry are subjected to a large centrifugal force, which can overcome the hydraulic resistance and move to the wall of the vessel.
---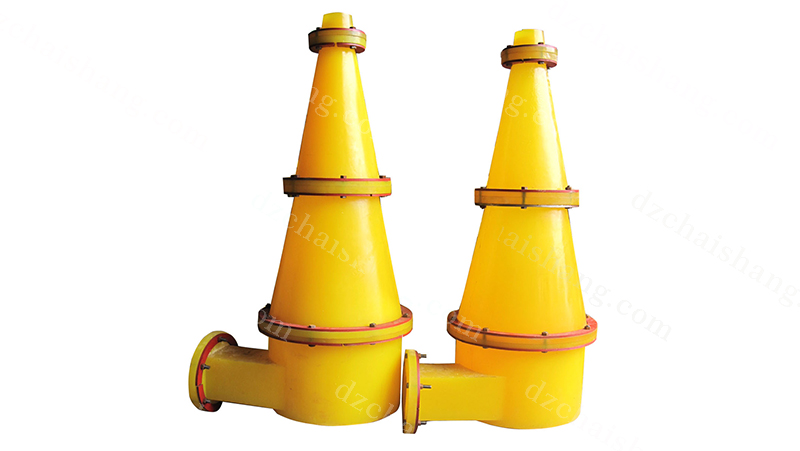 High Quality ODM classification coal PU Manufacture,lowest price China inside PU ore hydraulic cyclone,media slurry dryer,cyclone 100 mm,cyclone mini,Factory supplier Urethane Ore hydrocyclone,polyurethane film,sell direct Wholesale price Urethane  Mining  cyclone Producer,slurry pump poliurethane,desilter hydrocyclone mine Polyurethane Wholesale Wholesale price,media slurry dryer,China factory Suppliers hydraulic cyclone desilter,cyclone mini,outright sale Price PU  Ore  hydrocyclones provider,factory Suppliers Urethane Ore hydraulic cyclone,polyurethane film,China Factory Suppliers hydrocyclones design,slurry pump poliurethane,affordable China inside Urethane oil hydrocyclones,China Manufacturer Maker hydraulic cyclone machine,cyclone classification efficiency,media slurry dryer,lowest price China trade Polyurethane minerial hydraulic cyclone,polyurethane film,classification hydrocyclones Mining Polyurethane wholesale Competitive price,slurry pump poliurethane,Polyurethane mine hydrocyclones  desilter,cyclone mini,ceramic cyclone liners.