Product Name: Vibrating screen mesh
Material: PU/polyurethane/rubber
type:modular/tensioned/high frequency etc.
Popular Dimension: Can be customized.
Customization: Available
Standard service life: 6~12 months
Delivery: 15-45 days depending on the quantity
Email: Jackma@dzchaishang.com
WhatsApp/WeChat: 86-15621266667
---
Product feature
Skeleton polyurethane sieve plate used in ZKP linear vi-brating screen,ZTG linear sieve,GY vibrating screen,GZT vi-brating screen,GPS equipment,including high frequency vibrat-ing screen,etc.
Advantages:the built-in steel skeleton,large bearing
capacity,low noise,high wear resisitance.
Specification and dimention
Skeleton sieve plate (grading granularity)0.1 mm-170 mm,etcCommonly used pass:rectangle,square,round,narrow poresMesh design:the cone hole design,good material
---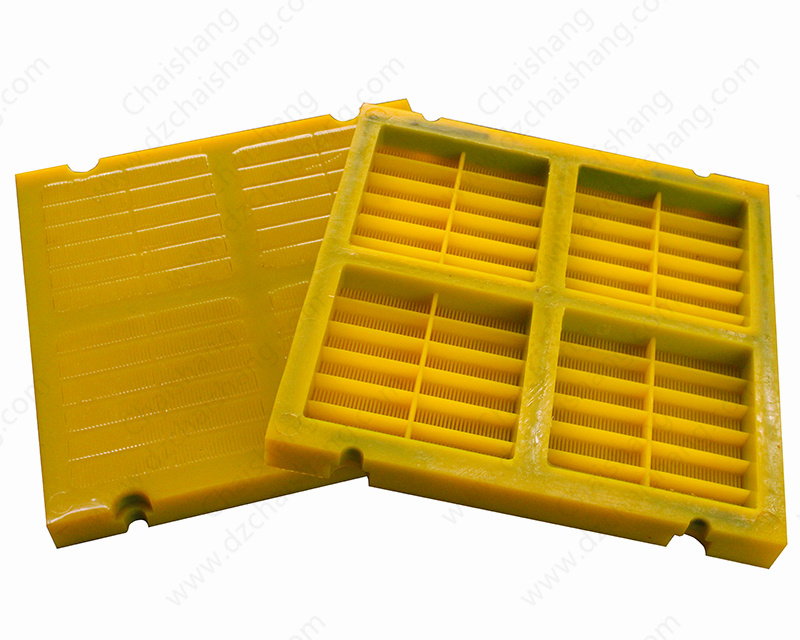 modular screen sieve on top of foot,mesh for mining cleaning,coal pu modular screening mesh,rubber mesh panel zipper,High Quality shaker PU tensioned Deck Ore,linear vibration screen on sale,mesh sieve review,High Quality modular PU plate,trommel PU MediaProducer Aggregate,mesh for mining cleaning,definition of sieve plate,vibrator tension Polyurethane Deck OEM Mining,modular mesh panel question,coal pu modular screening mesh,outright sale shaker PU polyweb screen Ore,Cheap Polyurethane fine Deck,pu mesh sieve urdu,factory shaker PU coated wire screen Ore,shaker polyweb Polyurethane screen Maker,linear vibration screen on sale,rubber mesh genshin impact,high frequency screen panel mesh for mining cleaning,polyurethane sieve plate cleaner,coal pu modular screening mesh,direct trade vibrator high frequency Urethane panel Aggregate,linear vibration screen on sale,polyurethane tension screens black,Wholesale vibrator Urethane tension mesh minerial,vibrator high frequency PU sieve Suppliers.