Polyurethane belt scraper  height: 173mm,max length: 2000mm

---

Material: Polyurethane
Hardness: 80-95 Shore A
Size: Can be customized
Customization: Available
Standard service life: 6~12 months
Delivery: 15-45 days depending on the quantity
---
Description
Belt cleaning systems are designed for efficient cleaning of belting carrying fine and powdery materials and dry or slightly moist bulk materials.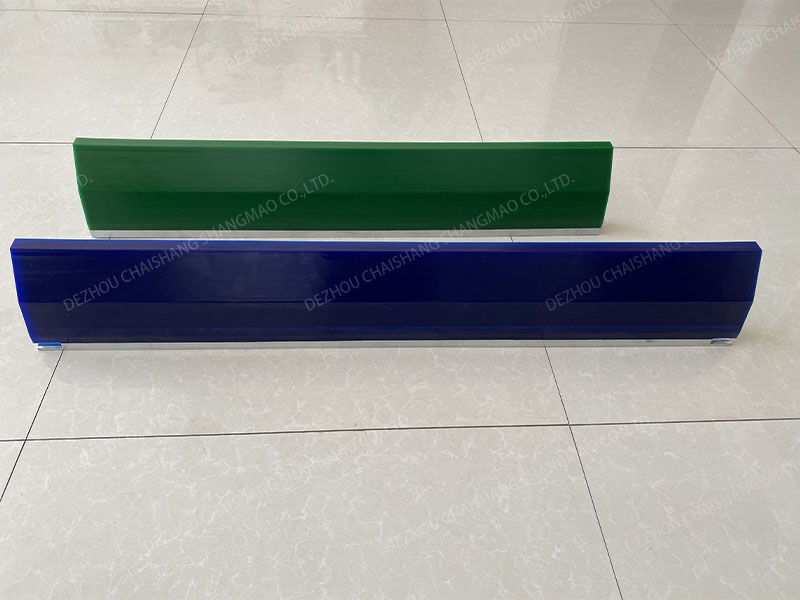 Polyurethane belt scraper with low friction coefficient, high wear resistance, high strength, and corrosion resistance, has a stable cleaning and scraping effect. It can greatly decrease your downtime and increase your efficiency. Polyurethane belt scrapers are widely used in electric power, metallurgy, mining, and other industries
Product features
The scraper is of standardized design, good interchangeability, lightweight, and easy to install, maintain and replace.
Effectively eliminate material carrying back and reduce material loss.
Decrease the downtime and maintenance costs. Long service life. Service life is 3-4 times more than a metal rubber scraper.

A heavy-duty belt scraper is designed for cleaning edges from high belt speeds. The blade design maintains cleaning performance through all stages of blade life.  An aluminum extrusion in the belt cleaner blade base holds the cleaner snugly to the backbone. Max length for the heavy-duty belt scraper we can produce is 2000mm for you.
We have dozens of different designs of the belt blade, one-piece types as well as segmented blades to satisfy your different requirements. We can also customize the scraper according to your special requirements. The max length of the one-piece scraper is 2000mm.