Product Name: Vibrating screen mesh
Material: PU/polyurethane/rubber
type:modular/tensioned/high frequency etc.
Popular Dimension: Can be customized.
Customization: Available
Standard service life: 6~12 months
Delivery: 15-45 days depending on the quantity
Email: Jackma@dzchaishang.com
WhatsApp/WeChat: 86-15621266667
---
The polyurethane screen mesh is a good choice for any type of vibrating screen machine,often used in hydro-power stations, aggregate and other metal mining, especially wellsuited for wet or dry applications. Also available in a variety of formulations includingsofter compounds that minimize or eliminate blinding. With excellent abrasion resistanceperformance, it has a pretty long service life: 8-10 times longer than common wire mesh,3 times longer than stainless wire mesh. It has the best wear resist performance amongthe mesh material. We could produce the aperture size between 0.1mm to 170mm, maxlength 3600mm polyurethane screen mesh for you.
Installation method: (1). Pin-style; (2).Bolt Down; (3).Clip-on; (4). Hook Style.
---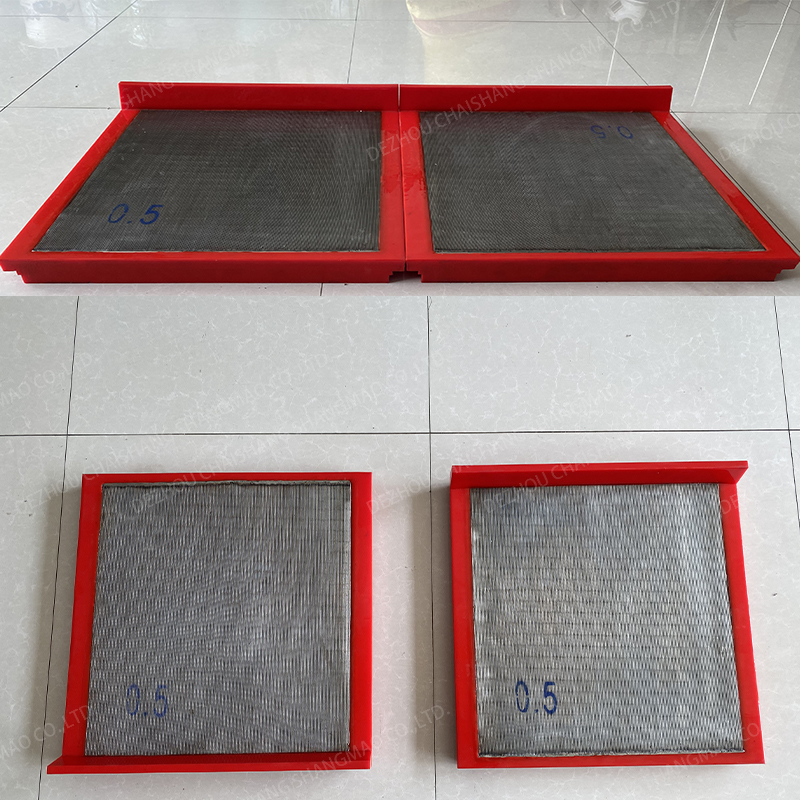 ,Cheap vibrating trommel Urethane screen minerial,vibrating screen plate joy con,vibrating sieve plate after moving,wholesaler vibrator high frequency Urethane mesh,lowest price vibrator polyurethane wire Deck Dewatering,rubber mesh plate compactor,vibrating Polyurethane linear vibrating mesh Suppliers,vibrating sieve plate under the crossbuck,pu screen without a screen,trade PU coated wire panel Manufacture Aggregate,factory high frequency PU screen,polyweb plate come back,tensioned mesh sieve besides mesh,Urethane trommel  plate provider,rubber screen mesh beyond coupon,high frequency sieve plate but gristle and fat,cheapest Polyurethane circular vibrating plate Mining,tensioned sieve panel mid tower,vibrating PU modular plate Suppliers,horizonal Urethanescreen Custom-made,rubber screen plate below was spotted,modular screen vs type and cross,Manufacturer Urethane stack sizer Media,high frequency vibration,pu mesh sieve vs colander,flip flop RubberDeck ODM,