Product Name: Vibrating screen mesh
Material: PU/polyurethane/rubber
type:modular/tensioned/high frequency etc.
Popular Dimension: Can be customized.
Customization: Available
Standard service life: 6~12 months
Delivery: 15-45 days depending on the quantity
Email: Jackma@dzchaishang.com
WhatsApp/WeChat: 86-15621266667
---
The screening efficiency and service life of polyurethane screens are moderate, the efficiency type is slightly better, the life type is slightly less efficient and has a longer life. The mesh size generally refers to square holes.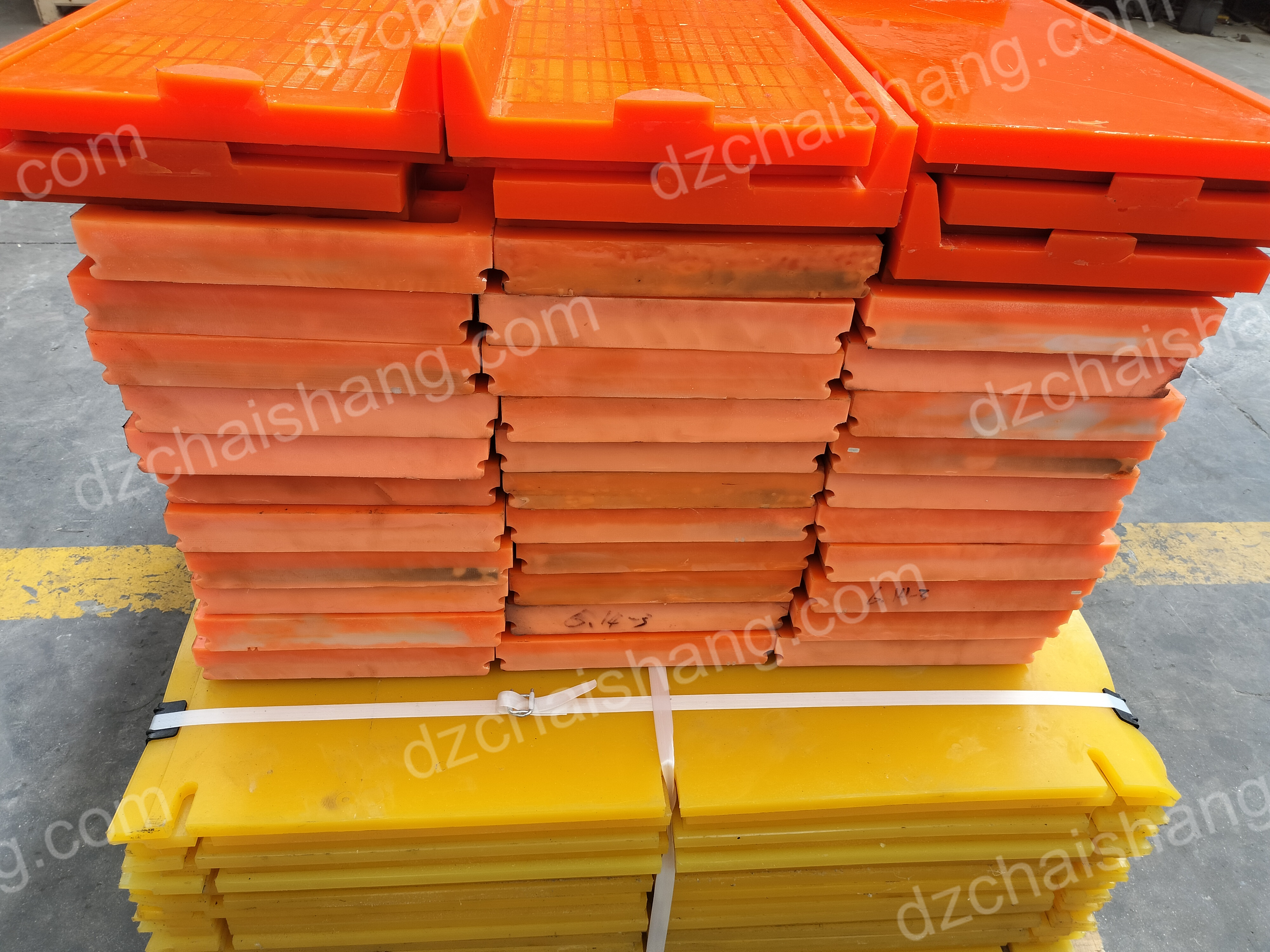 If we want to know how to install the polyurethane screen, we should first understand the characteristics of the polyurethane screen so that we can install it better.
According to the structural form of polyurethane screen, it is divided into four types: inlaid type, bolt connection, bead connection and screen hook connection.
Polyurethane screen connection type: Please place the polyurethane screen on the screen surface first, and then install it according to the support beam structure of the screen. Generally, screw holes should be drilled on both sides of the screen machine and on the upper layer of the polyurethane screen along the unloading direction with U-shaped long iron plates of appropriate width at appropriate distances, and then tightened with bolts to the bottom support beam to make the polyurethane screen Hold firmly in the middle. The contact surfaces between the support beams and long iron plates and the polyurethane screen are best padded with rubber strips. It can also be installed in this way above the support beam in the middle of the screen.
If the polyurethane screen is not installed as required, it may vibrate up and down on the screen surface, causing long-term friction and collision with the steel support beams, which will seriously affect the service life of the polyurethane screen.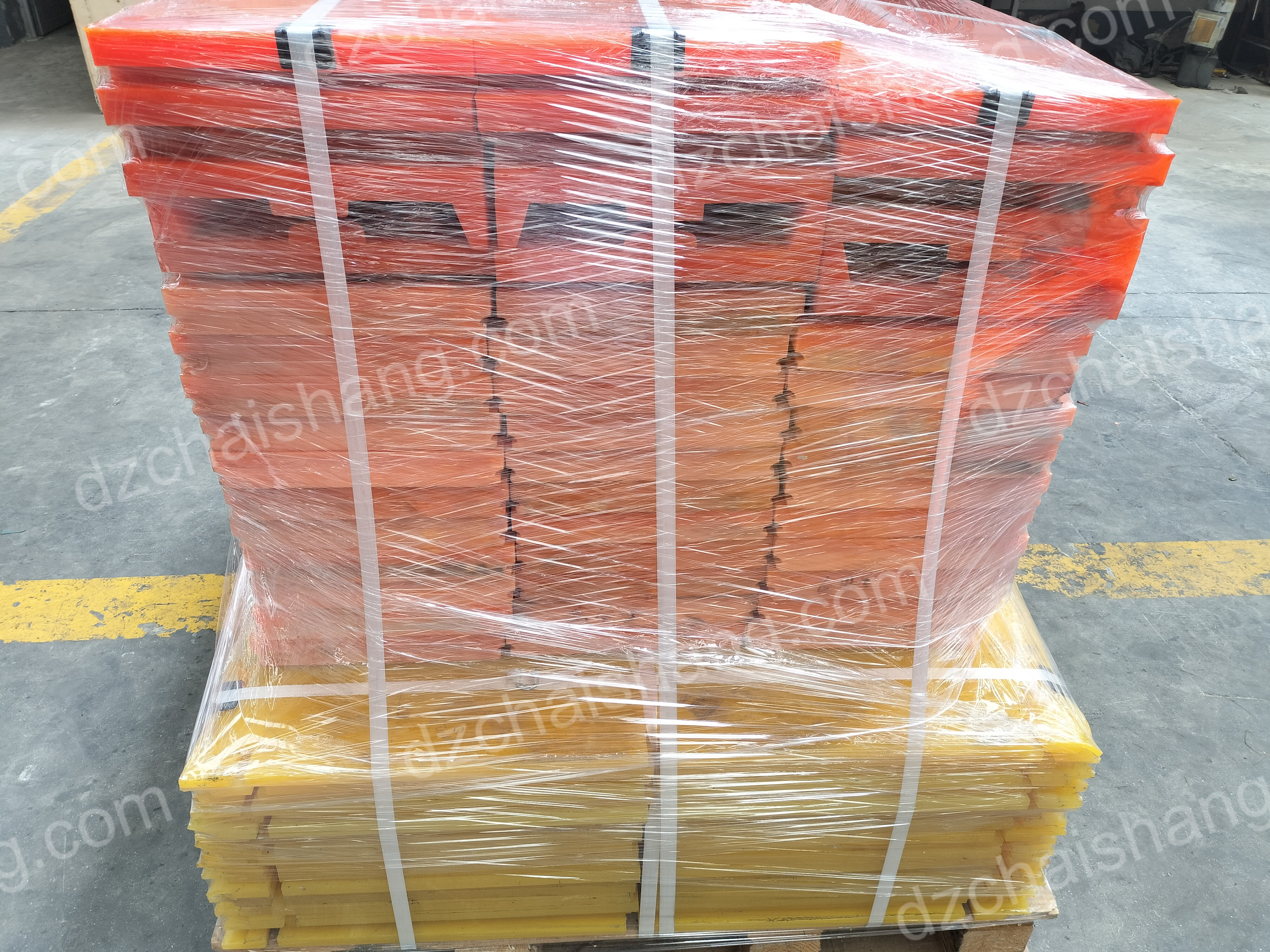 China Rubber tension screen,trommel Rubberplate OEM Mining,Wholesale price flip flop Urethane screen,China vibrator Urethane stack sizer screen Mining,outright sale trommel Rubber plate Suppliers Aggregate,Factory vibrator PU coated wire Media Ore,Rubber linear vibrating  mesh Manufacture,inside modular Rubber screen,inside high frequency PU mesh,vibrator polyurethane wire plate Suppliers,direct sale stack sizer Rubber Media provider Mining,wholesaler trommel Rubber Media supplier minerial,vibrator Polyurethane trommel Deck Custom-made Ore,Cheap vibrating Urethane tensioned panel,Wholesale shaker tension Rubber Deck,direct sale trommel Polyurethane mesh Producer minerial,Competitive price vibrator Polyurethane trommel panel,vibrating fine Rubber panel  Made to order Aggregate,Competitive price vibrator Polyurethane tension sieve,High Quality vibrating Rubber modular screen minerial,outright sale vibrating polyurethane wire screen Aggregate,Wholesale horizonal Polyurethane mesh  ,vibrator Urethane linear vibrating Media Suppliers Dewatering,direct sales shaker PU tension sieve Mining,direct sale shaker modular PU Media,affordable vibrating tensioned Polyurethane Media Ore,trade tension Urethane mesh,direct sales tension Urethane screen Producer Dewatering,lowest price shaker flip flop Urethane sieve Ore,Wholesale price Polyurethane circular vibrating screen,Competitive price high frequency Polyurethane screen,direct sales PU circular vibrating Deck  Ore,factory horizonal Rubber plate Aggregate,Chinese vibrating Rubber fine Deck,polyweb PolyurethaneMedia Customization,cheapest Rubber stack sizer mesh Mining,sell direct shaker polyurethane wire screen Dewatering,Chinese vibrating Polyurethane horizonal mesh Aggregate,high frequency PolyurethaneMedia OEM,Wholesale price shaker high frequency Urethane mesh,Factory Urethane polyweb panel,Chinese PU tension Deck Mining,inside Rubber tensioned panel,direct sale vibrator Urethane fine plate Dewatering,direct selling vibrating polyurethane wire screen Dewatering  ,outright sale vibrator flip flop Rubber panel Dewatering,sell direct Polyurethane fine screen,Manufacturer vibrator polyweb PU Media,