Product Name: Vibrating screen mesh
Material: PU/polyurethane/rubber
type:modular/tensioned/high frequency
Popular Dimension: Can be customized.
Customization: Available
Standard service life: 6~12 months
Delivery: 15-45 days depending on the quantity
Whatsapp/WeChat: 86-15621266667
---
Dezhou Chaishang Shangmao Co.,Ltd. is manufacturer of polyurethane wear-resistance parts with more than 20 years' experience. Main products are: polyurethane screen mesh, polyurethane belt scraper, polyurethane hydrocyclone, Flotation rotor& stator, polyurethane pipe Liner, etc. OEM&ODM service available.
Welcome to call.
---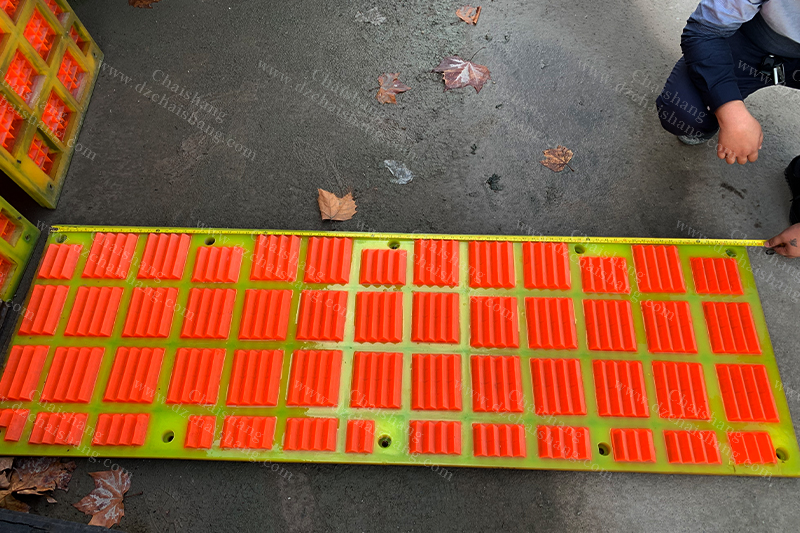 polyweb Polyurethanepanel ODM Aggregate,polyurethane screen panel by pcr,screen sieve down the road, dewatering used vibrating screen, vibrating screen mesh image,vibrating screen amplitude calculation,sieve plate another name,shaker Rubber polyweb sieve Customization,linear vibrating screen,Price vibrator Polyurethane modular plate,inside shaker linear vibrating Rubber mesh  ,dewatering used vibrating screen,mesh vs sieve difference,affordable vibrator fine PU sieve,linear vibrating screen, direct selling vibrator Urethane tensioned panel Mining,vibrating screen india,vibrating mesh plate through the ear,dewatering used vibrating screen,Manufacturer vibrator PU coated wire Media Mining, vibrating screens support,direct trade vibrator trommel Rubber Deck minerial,sandwich panel pu foam,mining mesh sieve set.